Learning from Home
Hello to all our lovely Canterbury families. We are missing you all very much but hope you're all keeping safe at home. We have found some websites and activities that you might want to look at to keep you busy. We will add more over the next few weeks.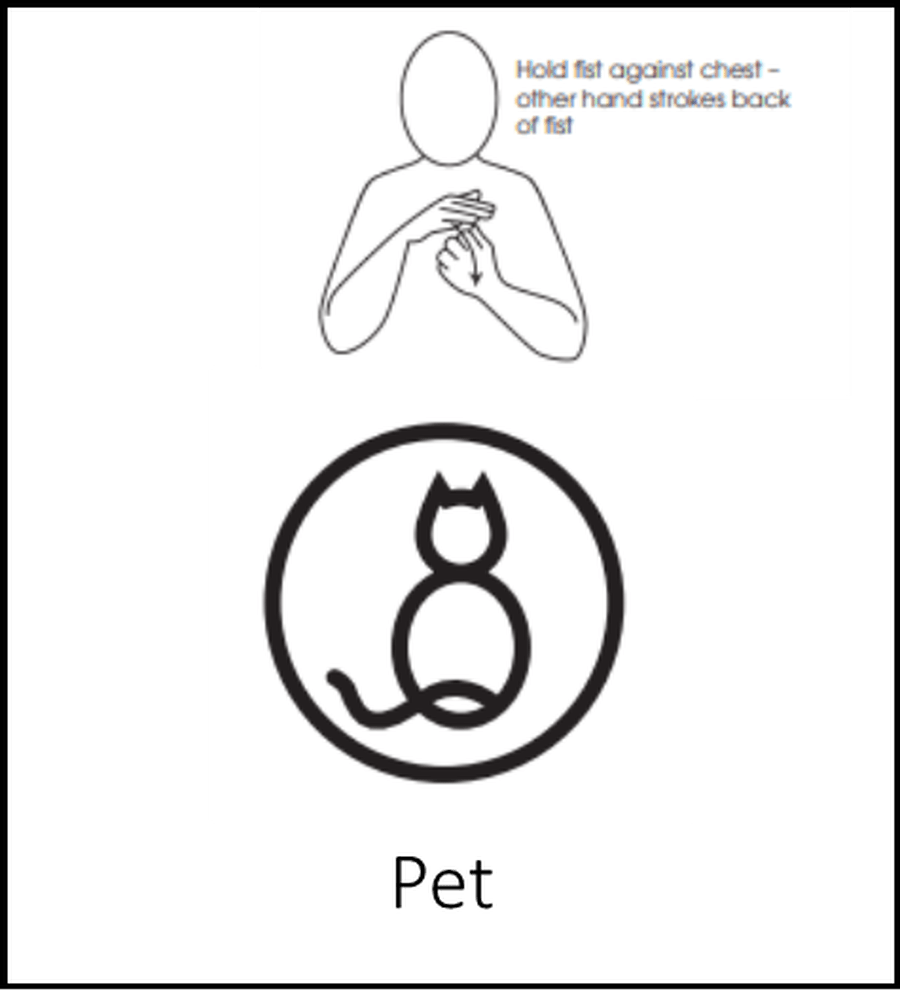 Our sign of the week this week is pet. Watch the video below to see how it's done.
Story of the Week
This week we have two stories: Brown Bear, Brown Bear and The Very Hungry Caterpillar. See the videos below
Health and Wellbeing
During this uncertain situation, it is important to look after yourselves and your families. It can be a worrying time for children with changes to daily and weekly routines so it is important to try maintain some structure at home. Try make a family timetable together, with time slots for meals, exercise, reading and bedtimes.
Feelings and emotions are important - try talking about how you or your child are feeling. It might be helpful to do this using a toy or doll to help them understand or express their feelings. If you or your child are feeling worried, take some time doing things you enjoy to help reduce some of this worry by listening to music, going for a walk, watching a movie together or playing a game.
I Spy
Play 'I Spy' something that is red/blue/big/small. You can use lots of different describing words as clues to what it might be. If you're child is ready, try play the game using initial sounds to help with their phonics. I spy something that begins with a c-c-c/sssss/p-p-p
Jolly Phonics
Try watching and singing along with the Jolly Phonics songs using the video below
Den Building
Work together to build a den! You could build the den indoors or outside. Try using chairs, a clothes airer, sheets/blankets and some pegs to hold everything in place. How big can you make it? Place some pillows inside, get cosy and share a book together.
Morrisons Vouchers
With help from The Morrisons Foundation and Bradford Trident we were able to issue vouchers to our families to help purchase some goodies to put smiles on the faces of our lovely children. Our hearts are filled with joy from seeing how you are spending your vouchers! Great work from Charlotte, Jack and the team at Canterbury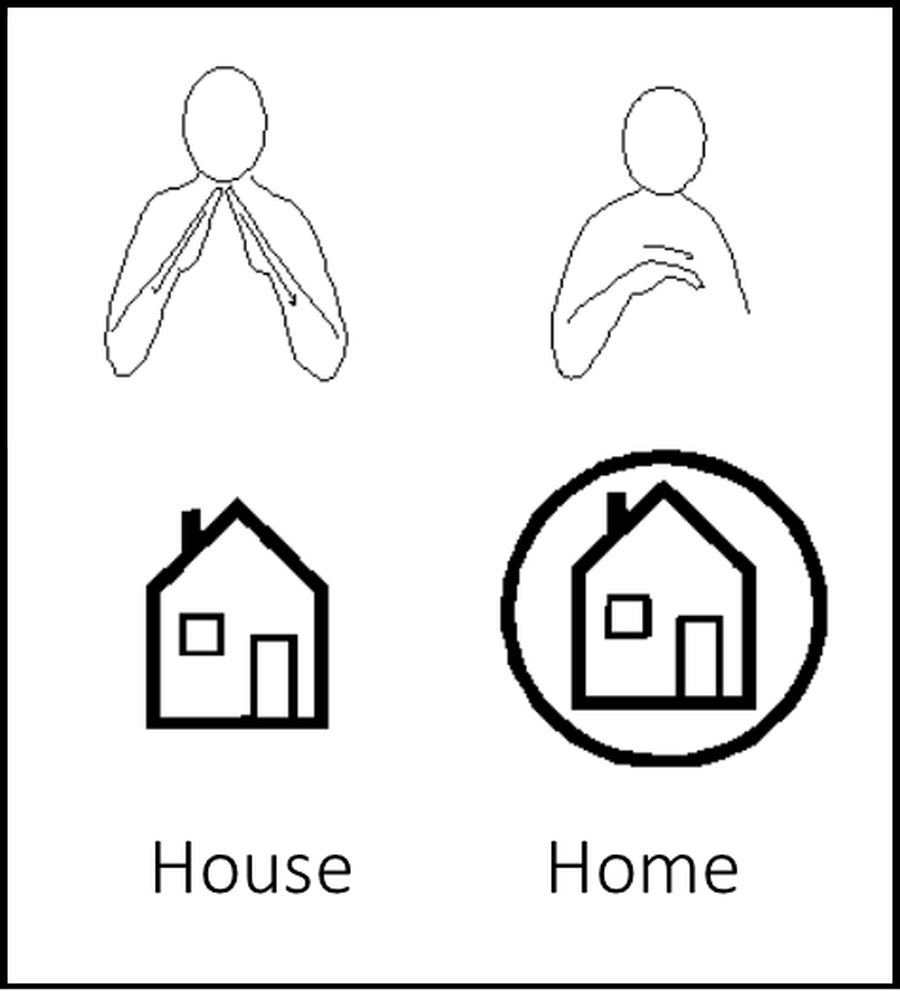 Our signs of the week this week are house and home. Watch the video below to see how it's done.
Story of the Week - Tip Tap went the Crab
Watch the video and listen to the story 'Tip Tap Went the Crab', join in if you have heard the story before. And remember to share a story at home as often as you can.
Listening Walk
Stand in the garden or go for a walk together and stop and listen to all the different noises you can hear. Talk about the sounds and ask questions about them. I wonder what it could be? Is it a loud sound or a quiet sound? How many sounds can you hear?
Sock Matching
Take turns finding matching pairs of socks while helping to do the washing. Look at the socks and talk about their colours and patterns. What kind of pattern does it have? How many pairs can you match?
Collection Challenge
Find an empty box and work together to find 5 blue objects from around the house. Once you have collected the items, take them out of the box and talk about what you have found. You could discuss size, shape and what it is used for. Put the items back where they belong and play the activity again, maybe this time you could look for something yellow or red?
Pass the Ball
Take turns passing the ball to each other in as many different ways as you can think of! You could throw or roll the ball, use your hands or feet, try passing the ball slowly or fast, but try not to drop it! Try to count out loud every time you pass the ball..... can you make it to 10?
Get Out More
The Get Out More team work with us to deliver our forest school programmes. Have a look at their website for some fun outdoor activities you can all do as a family. They update their news page with new activities regularly.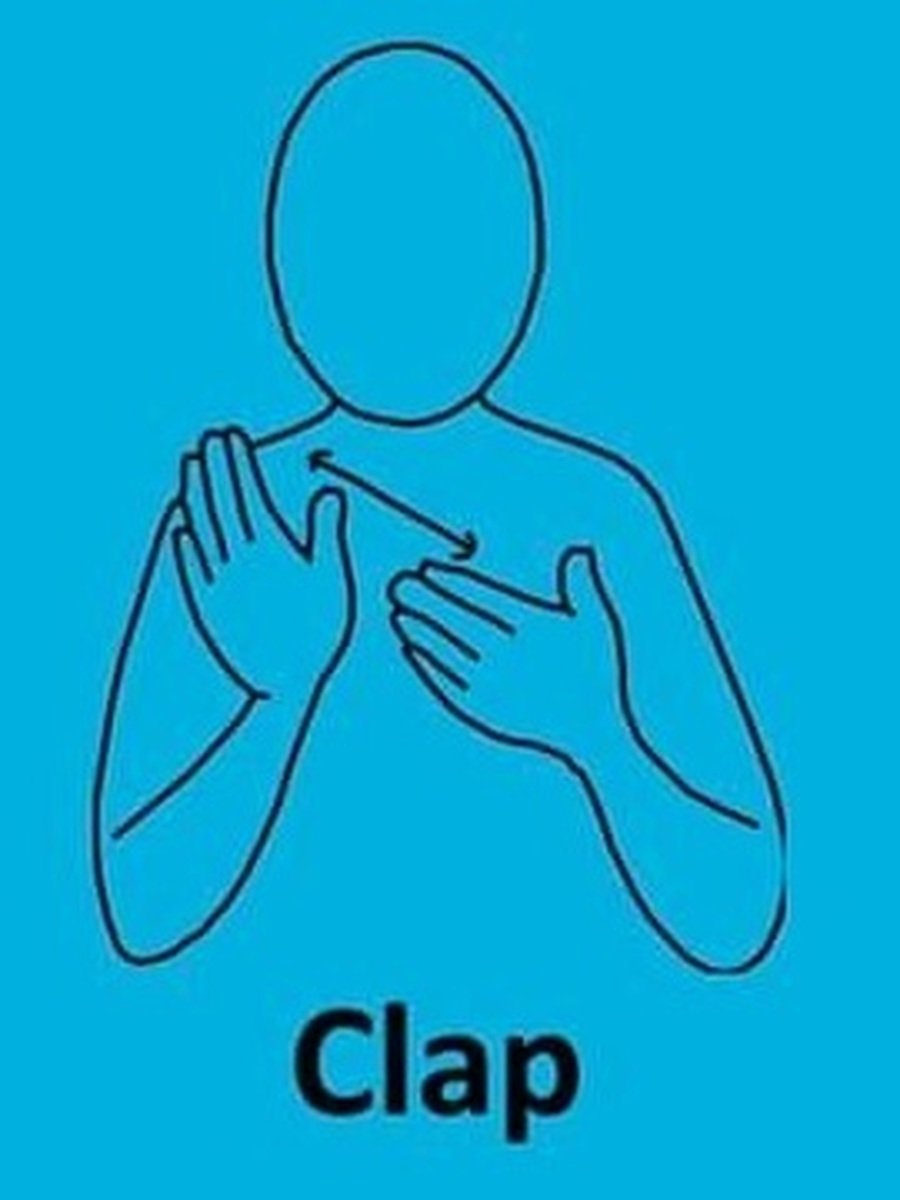 Our sign of the week this week is clap. Watch the video below to see how it's done.
Floating and Sinking
Collect different objects together from around the house and garden and then play a floating and sinking game in the bath. Take it in turns choosing an item and guess whether it will float or sink. Place it in the water and see what happens!
Ask why do you think each object floated or sunk and discuss each one. Do you think it was heavy or light?
Shape Hunt
Look at some 2D shapes and become familiar with their names - square, circle, rectangle, triangle, star and any more you can think of. Work together to search for shapes around your home. Look closely at the shape of a clock, window, plate or a television. I wonder what shape the door is? How many shapes will you find?
When looking at the different shapes around your home, encourage talk about the shapes and ask questions. What does it look like? Is it round or tall? How many sides does it have?
Tower Building
Let's get building! Use items from your home to build and stack. You could use cereal boxes, empty milk cartons, toilet rolls, bottles, books or shoe boxes for example. Work together stacking the items and see how tall you can make your tower! And don't forget to use your imagination...talk about how many doors or windows your castle is going to need. Who is going to live in your castle?
Number Formation
Watch some of the videos and see if you can write numbers 1-5. Try to learn the rhymes to help you remember what the numbers look like or you could even make up your own rhyme. The sillier the better!
Follow the Line
Try using some chalks to make different lines on the floor to follow. You could make them wavy, zig zag, curly or straight. Don't forget to use your arms to balance and try not to wobble!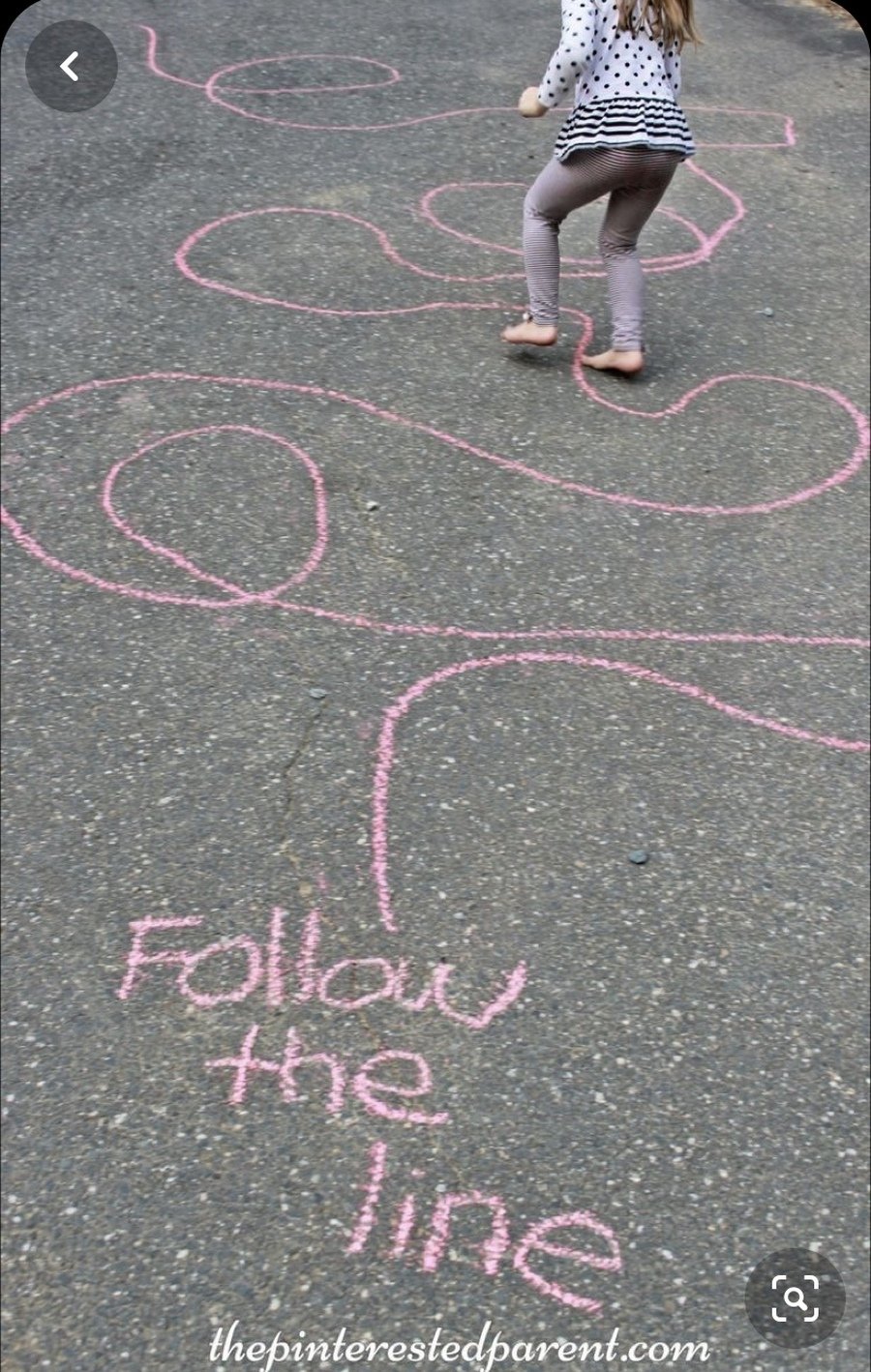 Leaf Threading
Collect as many different leaves as you can while out for a walk. Talk about all the different colours, shapes and sizes. Take them back home and thread the leaves onto some string attached to a small stick to push through the leaf. How many leaves can you thread on to your string?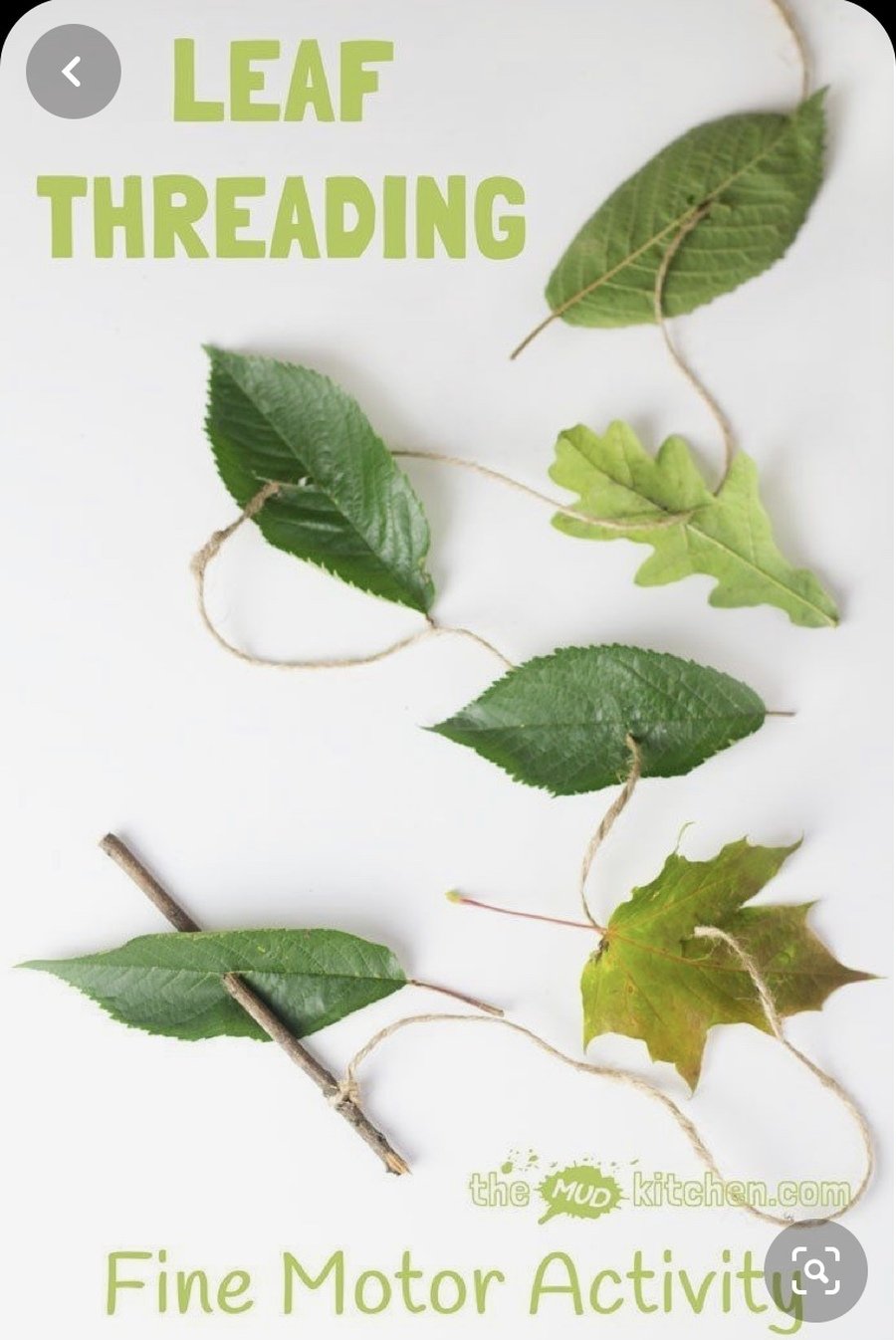 Sound Makers
Let's make some music! Find some containers with lids or empty bottles and fill them with dried rice, pasta, marbles, pebbles or anything you have at home that will make a noise. Don't forget to seal the lid tightly and then give them a shake! I wonder what sounds you will make? You could try making different rhythms such as fast, slow, loud and quiet.
Rainbow Scavenger Hunt
Go on a scavenger hunt and see if you can you find something to match each of the different colours of the rainbow. Maybe you could put all the things you have found together to make a RAINBOW

​Challenge - Can you name a fruit that is red?
Animal Noises
Have some fun making different animal noises! Who can be the noisiest elephant? Who can be the quietest mouse? I wonder what other animals sounds you can make with your voices?
Simon Says
Play 'Simon Says' using different actions with your body and carefully count each action that the lead person shouts out
Simon says...
Jump on the spot 5 times
Touch your nose 3 times
Hop on one leg 6 times
Pat your head 8 times
Stamp your feet 4 times
Turn around 2 times
What other actions could you add?
Try Something New
Why not try something new to eat that you haven't eaten before? Talk about what the new food looks like, smells like, feels like and tastes like. Is it sweet or sour? Is it soft or hard? Did you like the taste of it?
What is your favourite food to eat?
Painting with Water
Try painting with water outside in the garden on a dry hard floor, on the pavement or on a wall. Just add some water into a bucket or small container, dip your paintbrush and see what different marks you can make. Can you make a long wiggly worm or maybe a scary monster!
Pasta Threading
Use some string, a shoelace or even dry spaghetti and carefully thread dry pasta onto it. This is great for developing fine motor skills to get those little fingers ready for writing. You can even count the pasta pieces as you add each one. I wonder how many you can fit?
Sensory Mark Making Bags
Mix together in a bowl, 1 cup of flour, 6 tablespoons of water and a few drops of food colouring. Place the mixture into a sealable sandwich bag and then seal with tape to ensure no leaks. Use your finger to draw lines, shapes or even letters from your name. I wonder what you will make?
Share a Story
Choose one of your favourite books and find somewhere comfy and quiet to share a story. Look at the different characters and talk about what they look like and think about what might happen next in the story. Which story is your favourite?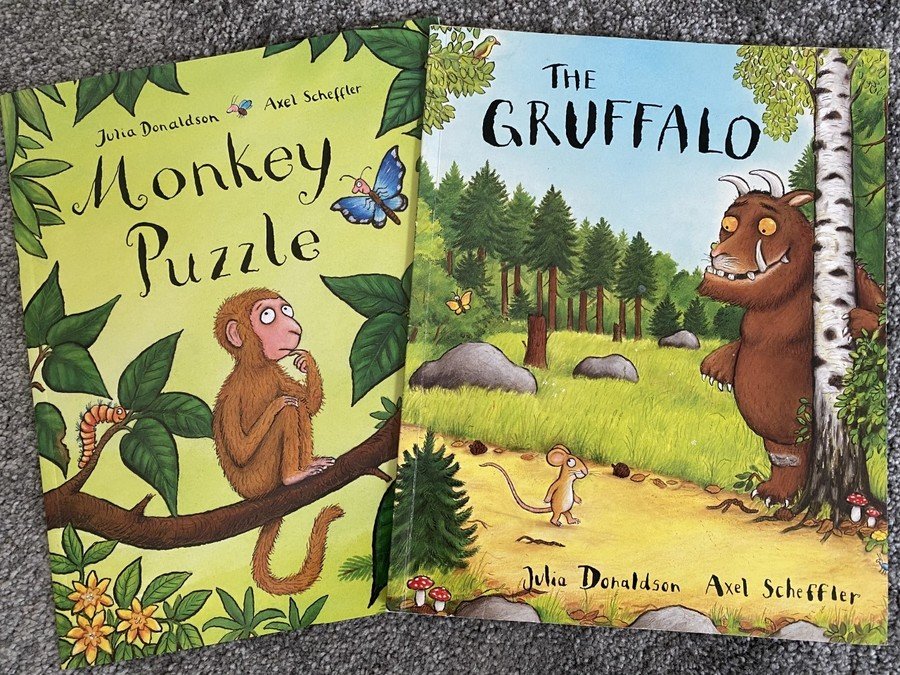 CBeebies
Why not watch 'Something Special' to keep up with the signs you have been learning at Nursery or do some exercise with 'Andy's Wild workouts'? https://www.bbc.co.uk/tv/cbeebies
Make a Rainbow
Lots of people are making rainbows to put in their windows as a sign of hope. Perhaps you could have a go at making one?
Splish, Spalsh, Splosh!
Collect some empty containers and let your child play in the bath with them. We find that all children love to fill and empty containers. Add some bubbles for even more fun!!