Supporting children through the coronavirus
The outbreak of Covid-19 means that many aspects of children's 'normal' routines have been abruptly and significantly changed. Many children are now spending all their time at home with their immediate family and all children are not able to have direct contact with their wider family and friends.
This will be an anxious time for many children, they may have worries and questions about how the virus might affect them and those close to them, especially older members of their family and those already in poor health.
Child Bereavement UK has made a short film about supporting bereaved children during the outbreak. Please find the link to this support below:
https://www.childbereavementuk.org/coronavirus-supporting-children
Winston's Wish has produced guidance on talking to bereaved children about coronavirus with suggestions on how to tell a child that someone has died from coronavirus. Please find the link for this support below:
https://www.winstonswish.org/coronavirus/
We hope that you all continue to stay safe. Please do contact us through office@canterburynurseryschool.co.uk should you require any additional support.
Domestic Abuse Support
There are many organisations that will help you if you are suffering from domestic abuse.
If you are in immediate danger call 999 and ask for the police. The police will continue to respond to emergency calls
Other places you can get help from are;
National Domestic Abuse Helpline - free and open 24 hours a day 0808 2000 247.
Refuge - www.refuge.org
Womens aid - www.womensaid.org.uk
Mens advice line - 0808 801 0327
Mental Health Support
Taking care of your mind as well as your body is really important while staying at home because of corona virus. Here are some organisations that can help you;
Samaritans - Free emotional support line 24 hours a day 116 123
Mind - 0300 123 3393 (Monday - Friday 9am until 6pm)
If you think you are experiencing a mental health crisis you can contact first response on 01274 221181 they are available 24 hours a day.
SEND Support
Activity Ideas and Links:
Supporting children with Autism - www.councilfordisabledchildren.org.uk
Makaton - www.makaton.org
Bradford Schools Online - www.bso.bradford.gov.uk
Sensory Projects - www.thesensoryprojects.co.uk
Government SEND Resources - www.gov.uk
Home Start Bradford
Did you know that you could self refer to Home-Start Bradford and District? This means if you have children under the age of five and live in the Bradford District and are struggling then you can ring or text us on 07502 247284 for help. Please leave a message and we will get back to you.
They have a pool of volunteers and staff who are trained to offer you a listening ear, provide emotional support with understanding of the family based frustrations of the current climate. They can help with tips and guidance around managing children's behaviour and activities to keep them occupied. We can listen to your issues and signpost you to other services.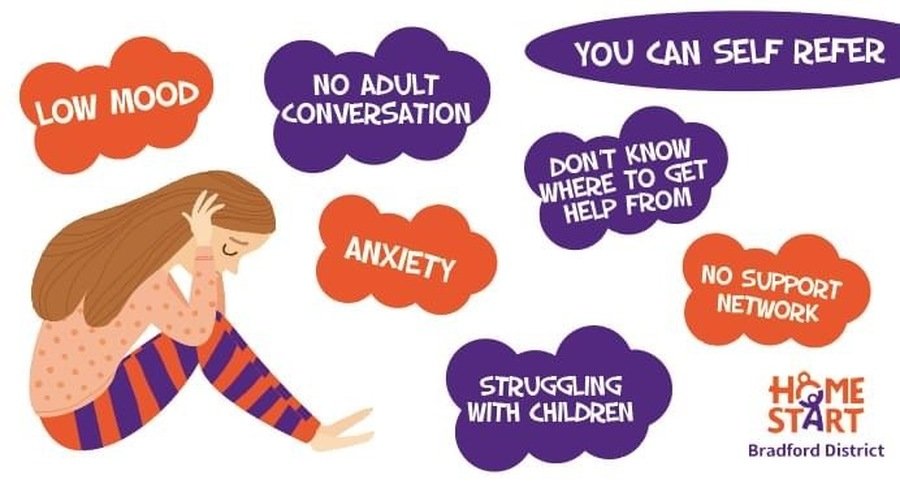 Bradford Council
If you need help or have a particular need, please call and talk to one of our friendly team who will make sure you get the right support. Call us on 01274 431000.